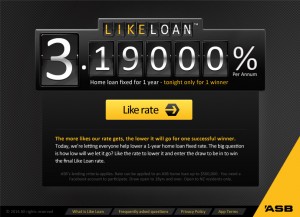 The latest iteration of the award winning ASB 'Like Loan' created by Saatchi & Saatchi New Zealand launches today, debuting a NZ first on Monday night NZ time, an integrated media campaign fusing social media and live TV commercials.
Every Monday for three weeks starting today, Facebook users have the opportunity to win a special home loan rate determined by how many people 'like' the rate through a dedicated Facebook app between 6pm and 10pm.
In a ground-breaking move, the real-time decreasing rate on Facebook will be integrated live into TV adverts on TVNZ channels TV One and TV2 throughout the evening – no other brand in New Zealand has used this innovation before.
Experiential, social media, banners and radio streams will also work together to promote the live, dropping rate.
If a user enters the prize draw, and provided they meet ASB's home lending criteria, they will go in the draw to win a special fixed term home loan rate determined that day based on the number of 'likes' accumulated. The lowest rate in 2013 was 1.1504%.
"ASB is excited to be offering Like Loan again and this time, pushing the boundaries even further with a new innovation to play to the growing consumer trend of cross-platform consumption," says Anna Curzon, ASB's General Manager of Marketing. "Research1shows that more than 90 percent of people move spontaneously between devices and screens, which is why we are fusing the live, dropping rate on the Like Loan app with television adverts."
"It's a fantastic opportunity for three lucky home owners to win a great value fixed interest rate and who knows how low it will go?"
The 2013 Like Loan campaign generated outstanding results with over 27,000 total entries. 65% of participants were not ASB customers, indicating the initiative's appeal to all Kiwi home owners and buyers.
The 2013 campaign was recently awarded Gold in the financial services category at the New Zealand Direct Marketing Awards and was awarded one Gold and two Silvers at the AXIS Awards.
Tags: integrated media campaign live TV commercials Saatchi & Saatchi New Zealand social media