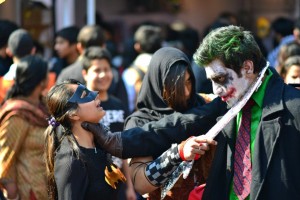 New Delhi : An action packed 4th Annual Indian Comics Convention is all set to entertain Indian audience at Capital's Thyagraj Stadium (INA), from February  7– 9' 2014 between 1 1 am- 7 pm.  With the aim to expand the scope and size of the events and make it sustainable across India, Comic Con India has decided to introduce nominal ticketing at all the events starting with the 4th Annual Indian Comics Convention.
For the 4th Annual Indian Comic Con, the Tickets would be Priced at Rs.100 per day; 3 Day Pass - Rs.300 and the Super Fan (VIP) Ticket - Rs.350 (Limited Number Available Only) - ONLY SOLD ONLINE. Tickets are now available online at www.BookMyShow.com. Tickets would also be available at box office at the venue. Super Fan ticket offer is only online, will not be available at the venue.
There will be Shuttle services provided from INA & Delhi Haat Metro station for visitors. Spread across 50000 Sq foot of area, this year the comics convention will be divided into 3 zones - (i) Experience zone (ii) Exhibitor zone and (iii) Food court.
Famous International personalities like Mark Waid, an Eisner Award-winning American comic book writer, known for his work on Marvel Comics' Captain America;  Gabriel Bá, a Brazilian comic book artist best known for his work on The Umbrella Academy and Casanova; David Lloyd, a British comics artist, best known as the illustrator of the story V for Vendetta;  John Steele Layman, an American comic book writer and Fábio Moon, a Brazilian comic book artist best known for his work on Casanova; will be attending and taking special sessions at 4th Comic Con India.
Jatin Varma, Founder, Comic Con India, shared, "We are kickstarting our 4th year in a big way by revamping our entire event, adding more exhibitors and content. There will be a lot more for the visitors to do at the event. We aim to take the fan experience up a notch and bring it closer to International standards. With the introduction of nominal ticketing, we hope to provide a lot many more amenities to visitors and our participants."
Comic Con India has partnered with the Charles M Schulz Museum to bring a special Inside Peanuts: The Life and Art of Charles M. Schulz exhibit to India for the 4th Annual Indian Comic Con - Delhi. This is going to be one of the major highlights of this convention. The exhibit shipped in exclusively for visitors at the convention takes the visitors through the journey of Peanuts & Charles M Schulz over the years. The exhibit starts off with Schulz's life from his Minnesota roots and illuminates his creative process and work environment. It tracks the development of twelve main characters that make up the unique world of Peanuts. It also takes the visitor on a journey from the 1950′s to present day popularity and resonance of the Peanuts comic strip and the legacy of Charles M Schulz.
[stextbox id="alert"]Cosplay (Costume Contest), one of the major attractions at Comic Con India, will continue to give assured prizes to everyone in costume. Under the 5 categories created to increase one's chances of winning gifts. Each day, one winner will be chosen from each of five categories:
1. Comic book/graphic novel
2. Animated Series/Movie
3. Manga/Anime
4. Sci-Fi/Fantasy
5. Gaming[/stextbox]
Tags: Annual Indian Comics Convention Comic Con India Indian audience Thyagraj Stadium