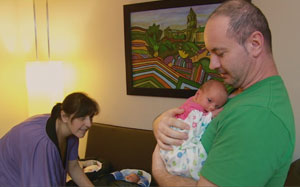 The birth business is thriving in India. Childless couples from around the world are flocking to the country, pinning their hopes on the poor young Indian women willing to bear other people's babies.
Al Jazeera English unveils India's booming baby-making industry in a special episode of 101 East, a weekly Asian current affairs programming on July 26.
In poverty-plagued India, the thousands of dollars couples pay their surrogates, can open the door to a much brighter future. About 12,000 babies, produced by Indian surrogates, are for Western clients. Al Jazeera English follows the two Australian couples hoping to bring home a "made in India" baby and, the highs and lows of them trying to bring a baby home, the stories of women who give birth to babies they will never know.
"If you are just a critic who feels a childless person should live a life of misery and stay childless throughout their life, or a poor person is meant to remain poor all throughout their life then you'll consider this as something wrong, as something immoral. A farm. A baby-making factory.." said Dr. Nanya Patel, one of the pioneers of the commercial surrogacy business.
The women and increasingly would-be parents are being exploited as ethics are swept aside in pursuit of profit. But have regulations kept pace with the huge expansion in surrogacy services? Many say this emotionally-charged industry is littered with pitfalls for parents and risks for surrogates. The special episode uncovers the success and failures of India's surrogacy industry.
Tune into Al Jazeera on Dish TV 618 and Tata Sky Channel 533 to catch the special episode on July 26, 09.00 AM and on July 27, 10.00 PM IST
Tags: Al Jazeera English Childless couples India's baby-making industry