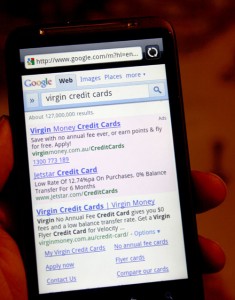 eMarketer expects search will account for 51.7% of mobile ad spending this year, and that share will begin to decrease as spending on mobile display, especially video, rises.
But as IgnitionOne's findings show, mobile search is nowhere near maturity. eMarketer predicts a 76.4% increase in mobile search spend this year. By 2017, US mobile search is expected to take $13.71 billion—more than half of total search spend.
Print Email Free Newsletter Search advertisers must meet consumers where they conduct their web activity
As smartphones and tablets play an increasingly dominant role in consumers' daily web activities, advertisers are putting more dollars to paid search ads on the devices.
According to Q2 2013 research from digital marketing solutions company IgnitionOne, US mobile paid search spend more than doubled year over year on both smartphones and tablets. By comparison, total search spend was up only 7% over Q2 2012.
Tablets saw a slightly bigger bump in spending and delivered impressions, but smartphones grew more robustly in terms of clicks, as more users tapped on paid search links on their phones. In keeping with this, the cost-per-click (CPC) on smartphones got cheaper, down by 13%, while tablets' CPCs were up 13%.
Overall, tablets took a greater share of mobile paid search spend than mobile phones, as tablet devices are seen as important real estate that drives conversions, especially among online shoppers.
Interestingly, though, this was actually a decrease in tablets' overall share of mobile search spend from Q1 2013, when tablets accounted for 64% of total US mobile search expenditures.
(Source: eMarketer)
Tags: Advertisers digital marketing solutions Mobile Paid Search mobile search spend Search advertisers smartphones US mobile search