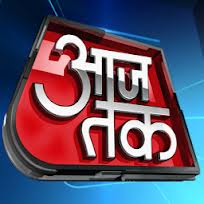 Aaj Tak, the nation's undisputed No.1 News channel won the most coveted award for the Best Hindi News Channel at the prestigious Indian Television Academy Awards 2014. This is the 14th year in a row that Aaj tak received the top honour establishing that the nation's trust in  Aaj Tak  is unshakable and ever stronger.
Commenting on the milestone, Aroon Purie, Chairman and Editor in Chief – India Today Group said, 'For the last 14 years, Aaj Tak has built a reputation of being the most trustworthy source of information. This promise is backed by a relentless pursuit to find the real truth and to present it with conviction. I congratulate the team and I respect the excellence in journalism that has made the brand command the loyalty it does.'
Ashish Bagga, Group CEO – India today Group added, 'The award stands testimony to the faith that the Nation holds in Aaj Tak. It is the consistent focus and the unwavering commitment towards our mission that has kept Aaj tak at the numero uno position, and constantly living upto its promise of being Sabse Tez'.
The other awards won by Aaj Tak's team at the ITA Awards 2014, include Anjana Om Kashyap for the Best News & Current Affairs Anchor, Rahul Kanwal for Best Talk Show Host on Seedhi Baat, the Best Interstitial filler for the 'So Sorry' series, and Shams Tahir Khan for the Best News & Current Affairs Show - Jeetega Bhai Jeetega.
Aaj Tak, the nation's most trusted and the most awarded News Channel continued with the winning streak of being the No. 1 in terms of viewership too. The latest week saw  Aaj Tak complete 77 uninterrupted weeks of being the no.1 in ratings.
Aaj Tak has been the clear choice of the viewer week on week, unchallenged in perhaps, the most news heavy period of recent times. The general elections, the change in government, to the more recent PM's historic speech from Madison Square, New York, the nation has been following News on Aaj Tak.
Supriya Prasad, Managing Editor  Aaj Tak mentions, "Being No.1 for 14 years is a matter of pride but being the viewer's choice in an election year is even more encouraging. A 60 million viewers followed their most trusted source in the Counting Week. It is very motivating to see when the efforts win the viewer's appreciation…The maximum reporters on the  ground, the most innovative use of technology,  holograms and teleportation, power of maximum LIVE sources, focus on ground visuals, the use of drone cameras….. We are very happy that our viewers noticed this most definitive edge and continued to trust us the most"
Tags: Aaj Tak Arun Purie India Today Group