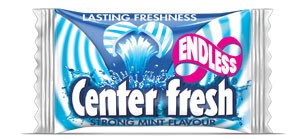 Continuing with their tradition of innovation, Perfetti Van Melle India have now launched Center Fresh Endless. With its unique blue and white stripes, the product promises long lasting freshness.
Commenting on the launch, Nikhil Sharma, Director marketing, said "Long lasting freshness is a very relevant benefit in the gums category. Our R&D developed a product whose freshness lasts longer than the other gums available in the market. We are extremely excited about this new launch and we believe this will open up new avenues for consumption."
Playing on its unique proposition of long-lasting freshness, the launch campaign features a series of 3 hilarious commercials with funny situations that seem never ending. From the nervous groom endlessly trying to lift the bride's ghoonghat to two office colleagues unable to get past each other in a doorway, to the funny sheikh who simply can't stay steady on the camel's back, it's non-stop fun, which is symbolic to the long lasting proposition offered by the product.
"Some of the simplest situations in life can become very funny if they were to go on and on, seemingly without an end. The fun can be compared to that offered by the gum due to its long-lasting freshness." Says Anurag Agnihotri, ECD, Ogilvy, Mumbai.
Apart from television, the campaign will also be supported on the digital medium including social platforms.
Center Fresh, one of the flagship brands of Perfetti Van Melle India, was launched in 1994. It was the first liquid filled chewing gum which has tantalized the taste buds of millions of Indians and over the years has grown to become the largest selling gum brand in India.
Agency Credits:
Creative:
National Creative Directors: Abhijit Avasthi, Rajiv Rao
Executive Creative Director: Anurag Agnihotri
Creative Director: Saurabh Kulkarni
Creative: Sofia Ashraf, Divya Kataria, Nimisha Kalipurayath, Shrikant Trivedi
Account Management:
Kapil Arora, President – Branch Head, Ogilvy North
Vishwajeet Rana, Sr. Vice President – Account Management
Parul Madaan – Management Supervisor
Ankita Singh – Account Supervisor
Production House Credits:
Production House – QED films
Imran Khan – Director
Supratik Dutta – Producer
Tags: Center Fresh Perfetti Van Melle India