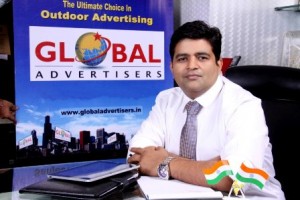 The Eiffel Group (XRBIA) based in Pune with realty footprints in Mumbai, Nagpur, Delhi and Bangalore, over 25 million sq. ft. of existing development and 119 million sq. ft. of planned projects across India has roped in Mumbai-based Global Advertisers to work the market with an OOH campaign.
Mumbai-based OOH giant's outdoor media campaign results in 1500 buyer queries a day for Eiffel Group's ambitious '100 smart cities'.
Global with its ownership of premium hoarding spaces in the Mumbai Metropolitan Region, which include large-format corridor display billboards and the largest hoarding in Asia, has delivered a campaign that it true to its reputation for innovation, superior campaign strategy, execution and 24X7 field support.
"We are very happy with the planning, strategy and execution of the campaign. Global deserves high praise for their consummate handling of our campaign," said Pradeep Iyengar, CMO, XRBIA, who confirmed that the campaign has resulted in about 1500 buyer queries a day, through calls and footfalls at sales and site offices.
"A careful selection of sites, close alignment with the client's brand positioning and a sincere desire to deliver pleasant surprises inspired us as we conceptualized, planned, and executed this project. XRBIA is a futuristic project that is affordable, holistic and luxurious by the best standards. Our aim was to launch a campaign that communicated the tremendous advantages that the project has to offer, and going by the feedback from the client so far, we are doing good; very good in fact," said Sanjeev Gupta, Managing Director,Global Advertisers.
Global Advertisers' schemes for the real estate sector include 'Outdoor Media Campaigns on Barter', 'Billboards on EMI' and 'Rotational Plans'. All of Global media properties across India/Mumbai are offered under these innovative schemes.
Tags: Global Advertisers Mumbai OOH